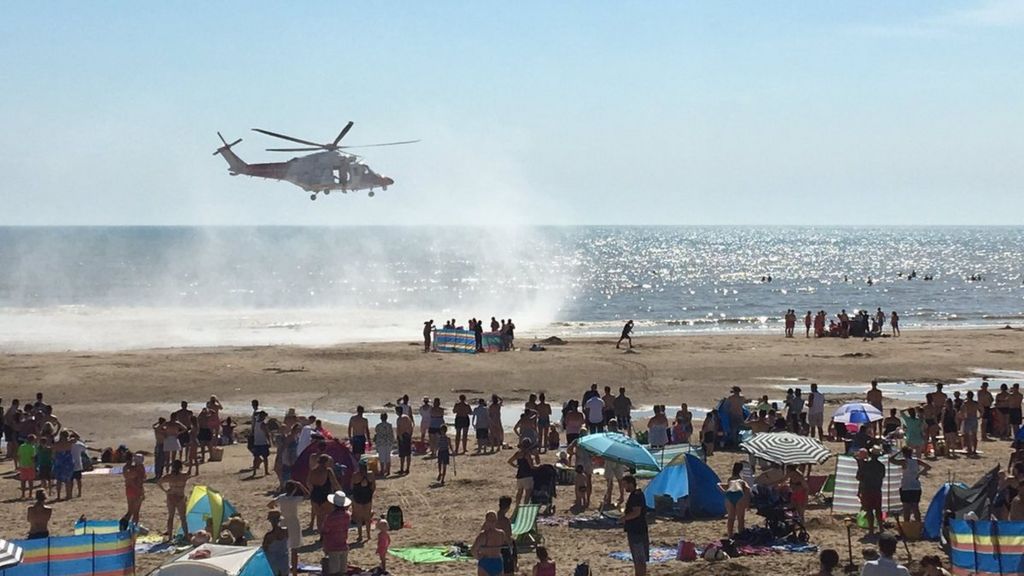 Five men who died at Camber Sands on the hottest day of the year were on a day trip from London, police have said.
Three of the men were pulled from the water on Wednesday afternoon, while two more bodies were found later.
Although formal identification has not taken place, police believe the men were in their late teens and early 20s and had gone to the beach together.
Police said no-one else was missing after an earlier search for further victims was abandoned.
Live updates from Camber Sands
Ch Supt Di Roskilly of Sussex Police said: "We believe we now know who the men are and that they came to the beach together for the day.
"We believe they are all in their late teens and early 20s and come from the Greater London area.
"These men were not fully clothed when they were pulled from the sea but wearing clothes appropriate for being at the beach for the day.
"We have no further reports of anyone else missing from Camber and there are no ongoing searches related to this incident.
"This has been an incredibly tragic incident and we are offering their next of kin support at this difficult time."
'Life on the line'
Members of the public and emergency services tried to save the men when the first alert came in just after 14:10 BST.
Rescuer Deven Small said: "I walked over to the scene and I could see a few people holding someone but his head kept on going in and out of the water.
"I ran in and helped to carry him in. Adrenaline kicks in. I didn't want to, you're talking about someone's life on the line.
"It's not the nicest thing to see in the world, to see someone die in front of you."
Two bodies were discovered by a member of the public as the tide receded at about 20:00, the RNLI said.
Police said none of the victims had been stung by jellyfish.
Rother District Council said up to 25,000 people use the beach each day.
An online petition calling for lifeguards at Camber Sands has been signed by more than 4,000 people.
A council spokesman said: "Our beach patrols are on site throughout the summer and are able to advise people of potential dangers, reunite lost children and deal with any incidents on the beach.
The Police and Crime Commission for Sussex, Katy Bourne said: "We do need to get together to see if further improvements need to be made [to safety at the beach].
"We need to find the best answer. I don't know if lifeguards are the answer."
Last month, 19-year-old Brazilian Gustavo Silva Da Cruz died while swimming in the sea there. He was one of three men who got into trouble in the water.